You may find interesting
Close
BELL B30E 6x6
€124,000
KOMATSU HM 400
€144,600
CATERPILLAR 730C2
€207,000
CATERPILLAR 730C2
price on request
CATERPILLAR 730C2
€207,000
VOLVO A35G 6x6
€151,000
BELL B30 articulated dump truck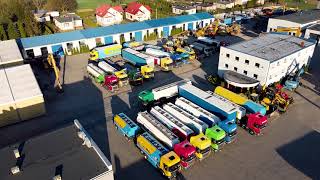 1/25
Description
Overall dimensions
9.953 m × 3.426 m × 3.268 m
Engine
Brand
Mercedes Benz OM 936 LA
Cabin
Cruise control (tempomat)
Remote inspection
Request an independent technical inspection
Need delivery?
Calculate the cost of delivery
Articulated dumper BELL B30E

The machine is in very good condition
100% working condition
Tail gates
6x6 drive
Air conditioning
Load capacity 28 tons

It is possible to inspect the machine with your expert / service expert who will be able to confirm the condition and mileage of the machine. We have nothing to hide!

More information on the phone numbers:
ENGLISH, DEUTSCH: 0048.795118.653 (WhatsApp)
ENGLISH: 0048.539523.349

This announcement is for commercial information only and does not constitute an offer pursuant to Art. 66 § 1 of the Civil Code. The seller is not responsible for any errors or out-of-date advertising, and the data contained therein are for information purposes only and may be changed.
Gelenkkipper BELL B30E

Die Maschine ist in sehr gutem Zustand
100% Arbeitszustand
Heckklappen
6x6 Laufwerk
Klimaanlage
Tragfähigkeit 28 Tonnen

Es ist möglich, die Maschine mit Ihrem Experten / Serviceexperten zu inspizieren, der den Zustand und die Laufleistung der Maschine bestätigen kann. Wir haben nichts zu verbergen!

Weitere Informationen zu den Telefonnummern:
ENGLISCH, DEUTSCH: 0048.795118.653 (WhatsApp)
DEUTSCH: 0048.539523.349

Diese Ankündigung dient nur zur kommerziellen Information und stellt kein Angebot gemäß Art. 66 § 1 des Bürgerlichen Gesetzbuches. Der Verkäufer ist nicht verantwortlich für Fehler oder veraltete Werbung. Die darin enthaltenen Daten dienen nur zu Informationszwecken und können geändert werden.
Jako pierwsza firma w Polsce wprowadzamy innowacyjną możliwość!
Jeśli chcesz sprawdzić i przetestować maszynę przed zakupem, umożliwiamy dzierżawę sprzętu na okres 1-3 MIESIĘCY.
Jeśli zdecydują się Państwo na zakup, koszty dzierżawy zostaną odliczone od ceny zakupu, a Państwo będą posiadali gwarancję kupna sprawdzonej maszyny.
Oferujemy pełną pomoc przy zakupie maszyny (transport).
Możliwość kredytowania, leasingu - formalności po naszej stronie!
Wozidło przegubowe BELL B30E
Maszyna w stanie bardzo dobrym
Zadbana
Burty
Napęd 6x6
Klimatyzacja
Ładowność 28 ton
Istnieje możliwość oględzin maszyny ze swoim rzeczoznawcą/ekspertem z serwisu, który będzie mógł potwierdzić stan i przebieg maszyny. Nie mamy nic do ukrycia!
Więcej informacji pod numerami telefonu:
show contacts
show contacts
show contacts
EN, PL, WhatsApp
show contacts
DE, PL, WhatsApp
Niniejsze ogłoszenie jest wyłącznie informacją handlową i nie stanowi oferty w myśl Art. 66. § 1. Kodeksu Cywilnego. Sprzedający nie odpowiada za ewentualne błędy lub nieaktualność ogłoszenia, a dane w nim zawarte mają jedynie charakter informacyjny i mogą ulec zmianie.
Сочлененный самосвал BELL B30E

Машина в очень хорошем состоянии
100% рабочее состояние
Хвостовые ворота
6x6 привод
Кондиционер
Грузоподъемность 28 тонн

Машину можно осмотреть вместе с вашим экспертом / экспертом по обслуживанию, который сможет подтвердить состояние и пробег машины. Нам нечего скрывать!

Подробная информация по телефонам:
АНГЛИЙСКИЙ, Немецкий: 0048.795118.653 (WhatsApp)
АНГЛИЙСКИЙ: 0048.539523.349

Это объявление предназначено только для коммерческой информации и не является предложением в соответствии со ст. 66 § 1 Гражданского кодекса. Продавец не несет ответственности за какие-либо ошибки или устаревшую рекламу, а данные, содержащиеся в них, предназначены только для информационных целей и могут быть изменены.
Important
This offer is for guidance only. Please request more precise information from the seller.
Safety tips
Seller's contacts
Arkadiusz Zieliński
Languages:
English, Polish
Sebastian Główny
Languages:
English, Polish, German
Poland, Kujawsko-Pomorskie, Frydrychowo, 87-410
Seller's local time: 04:12 pm (CEST)
Selling machinery or vehicles?
You can do it with us!